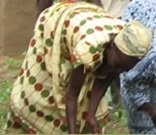 PIER-African Studies was established in 1985, when the Council on African Studies was funded as a United States Department of Education Title VI National Resource Center. Its programming focuses on expanding and enhancing knowledge of Africa in schools, colleges, universities, civic groups, business, and the media.
PIER-African Studies offers professional development workshops, on-site training programs, speakers' bureau and resource services, enrichment programs in schools and civic groups, intensive summer institutes, field study opportunities in Africa, curriculum evaluation and review, online lesson plans, consulting and clearinghouse services, and language enrichment opportunities for students, and collaborates in organizing local, national, and international conferences.
For business and the media professionals, PIER-African Studies offers training and educational programs that enhance their international and intercultural understanding.